When spring weather comes around, it motivates everyone to get out and enjoy their surrounding views. That's when it can become evident that your property's landscape might be looking a little less appealing than the previous year, and it needs some serious attention. 
Whether it's the look of your neighbor's homes that inspire you or the lack of outstanding beauty on your own, something might motivate you to want to revamp your garden landscape design for spring. To accomplish this, you might consider more space for your garden to bloom, possibly an array of various brick designs, or maybe the installation of a tree or two to spice up the look you already have going. 
Whatever it might be, you may be finding ideas for the design to be more difficult than you had initially anticipated. You might be torn between adding trees to your landscape, or your mind may be completely blank. So you've come to the right place for a new set of ideas to spice up your garden! Keep reading to hear about designs that might be right for your home or business.
Installing Trees
Whether they are big or small, trees can give your landscape an outstanding look you have been hoping for. Trees that compliment your garden are going to draw more attention to your landscape and highly improve the design that will make people wish they had thought to install trees sooner. 
One unique addition that only tree installation can add is more privacy. While bushes and shrubbery can add greenery and aesthetic, only trees have the height and width to create total privacy. You can even consider installing a slew of trees around your backyard to build a nature fence! 
Gardens Galore
While traditionally gardens tend to only be near the front and back of the home, it's becoming more and more on-trend to have a garden lining your entire home or even your driveway. Where there are more gardens, there are more chances to grow some beautiful, bright flowers of your choice. 
Choosing to spread your garden throughout the entirety of your property can create a significant boost in your curb appeal, up your return on investment, and impress your friends and family with your unique take on your landscape design. You can also choose from so many more flowers that will attract more attention to your design.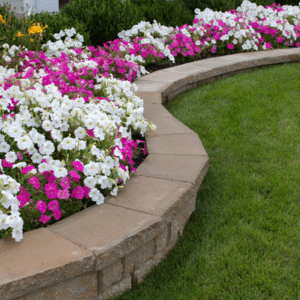 Retaining Walls 
Adding brick detail can be something that sets you apart from other homes. Many people forget about them or worry they won't match their existing landscape. But what they are forgetting is that designs are custom-made and can be matched to anything you are already fond of in your garden. 
A retaining wall can be included in your garden, or it can be a stand-alone structure that allows you to have vines and other greenery living around it, accenting its colors. 
The Professionals at Quality Cut Lawn Service Understand Your Needs
Quality Cut Lawn Service has the professionals you need for every landscape design addition or maintenance that you can think of. Our team members know how to create and install unique, individualized designs that fit the needs of you and your property. Whether that be matching and updating something you already love or installing a whole new slew of trees, Quality Cut Lawn Service is here for you. 
We can be reached by phone at (302) 420-7597, or you can reach us on our contact page. Finding us on social media is easy too! Our Facebook is full of other information as well.