The trend for upgrading one's landscape continues through 2021. Last year was a big year for the landscaping industry. The COVID pandemic gave everyone around the country and here in the Wilmington, Delaware area a new perspective on life and what is important. Many of us stayed home and created our own staycations in our backyard. We picked up new hobbies and trends, including gardening. We found ways to utilize spaces we didn't know existed, built outdoor sanctuaries, and started creating sustainable food gardens.
Many of these trends continue as many of us learn to bring nature indoors and bring ourselves outdoors. Are you looking to upgrade your Delaware landscape? Are you looking for ideas on how to make your backyard your own personal haven? Stayed tuned as we walk you through this year's five hottest landscaping trends.
1. Creating Outdoor Living Spaces
Being stuck in our homes for months at a time made us long for the outdoors. As we all learned to adapt to social distancing, many people decided to create extra space outdoors by adding on living rooms, play areas, and kitchens. Taking the inside outdoors continues to be a huge trend and people are continuing to turn their outdoor space into extra living rooms. Here in Delaware and on the east coast where we experience cold winters, the new trend is to install outdoor heaters, overhead awnings, firepits, screened-in porches, and pergolas to help extend the outdoor season.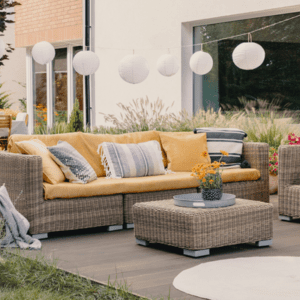 2. Gardening
Gardening was listed as one of the top hobbies people picked up during the pandemic, and this trend has not waivered. Over 20 million new gardeners joined the movement in 2021, all in response to social distancing and being locked in our homes. Many new gardeners have joined the experienced gardeners in planting anything from flowers to vegetable gardens and trees and shrubs.
2021 is expected to be the year of bold, bright, tropical plants, according to Better Homes and Gardens. Another popular trend in gardening is to grow your own food for sustainability. And we aren't talking just the usual cherry tomatoes and peppers. Gardeners are growing everything from broccoli, lettuce, and cucumbers to potatoes, kale, radicchio, arugula, and edamame beans.
3. Vertical Gardening
Whatever in the world is vertical gardening? This popular trend has been a must-do for those living in small spaces such as apartments and condos. A vertical garden is a technique used to grow plants on a vertically suspended panel by using hydroponics. It can be freestanding or attached to a wall. It provides a pop of vibrant color along with a way to grow plants and vegetables when confined to small spaces. Another trend in vertical gardening is green walls. Some are simply walls covered with climbing plants, while others involve a panel that allows plants to grow inside.
4. Pollinator Gardens
More and more people are becoming aware of the role pollinators play in society and are deciding to use plants that attract pollinators. They are also changing their outdoor space into native habitats. Honeybees aren't the only important pollinator. Hummingbirds, butterflies, bats, and certain insects also contribute to the process of pollination. Many folks are foregoing the clean, well-manicured look for a more natural feel, including planting in clumps rather than using single plants and using plants native to the Wilmington area.
More homes are placing bird feeders, bat houses, butterfly houses, and salt licks in their backyards to help attract and keep butterflies and bees. And that dead tree you wanted to cut down and get rid of last year? Dead trees and dead limbs still provide essential shelter for bees, insects, and many birds.
So the next time you see a yard that looks messy, unkempt, and full of what appears to be weeds, take a second look. Perhaps it's on purpose, an eco-friendly environment created to attract those creatures so vital to our ecosystem.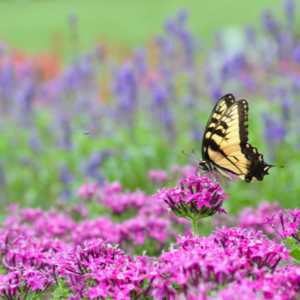 5. The Use of One Main Color
Have a favorite color? The number five hot trend on our list is the use of monochromatic gardens. What is a monochromatic garden you ask? It is the use of one color scheme throughout including flowers and foilage in several different tints and shades of one main base color. While this may sound boring, there are so many variations of each color including shades and textures, gardening with one color can give those who use this fashionable technique a sense of calm and stability.
For All Your Landscaping Needs, Call Quality Cut Lawn Service
Now that we've described the five hottest new landscaping trends for you, allow Quality Cut Lawn Service to help upgrade your Wilmington area landscape. Quality Cut Lawn Service develops and installs professional, customized landscape designs that transform local properties into thriving outdoor retreats. We will partner with you directly and offer customized, personalized solutions. We can help you with your gardening, use of one or many colors, planting, pruning, and trimming of trees, installing shrubs and plants for pollinators, vertical gardening, and more. Just give us a call at 302-420-7597 or contact us here to learn more.
We also offer a five-step fertilization and lawn care program, aeration and overseeding, lawn clean up, mowing, and a variety of other services. Learn more or contact us now.
Find this article helpful? Share with your family and friends and then check out our other blog articles for more awesome tips and ideas.