Is your yard not quite how you'd imagine it should look? Consider custom landscaping. Aside from the obvious benefit of having the yard of your dreams, there are many additional perks as well. Keep reading to discover why you should opt for custom landscaping this year.
The Benefits of Custom Landscaping Installation
Get A Personalized Strategy
Yards and garden beds are as varied as the people they belong to. No two are exactly alike, and a custom landscaping installation will reflect your home's individuality. Installing new flower beds, ornamental trees, shrubs, or fixtures like birdbaths requires a personalized approach. Your yard's soil compilation is different from that of your neighbor. It could stray to the acidic end of the pH scale, for instance. A landscaping technician will know how nutrients your soil needs to be receptive to new plants.
Take Regional Expertise Into Consideration
Some plants grow better in Delaware than others. It's incredibly frustrating to be excited about a new flower or plant, only to see it shrivel and die by the end of the year. Instead of doing guesswork and hoping the plants you install yourself will thrive, you can discuss your ideas and goals with a professional. They'll be able to advise you on which flowers, trees, or shrubs will be ideal for your yard.
It's Convenient
Researching, buying, planning, and installing new flowers and trees is a lot of time-consuming hard work. Why not leave it to the experts? We offer both custom landscaping and lawn care so you can sit back, relax, and enjoy the beauty of your yard without breaking your back.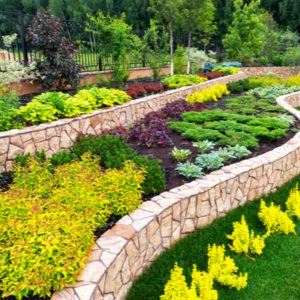 Boost Your Property Value
Believe it or not, having a beautifully landscaped front yard can increase your property value by as much as 12.7%! If you're looking to move in the next few years, custom landscaping services can undoubtedly get you more bang for your buck! If you've already found your forever home, it will make your space even more enjoyable!
Boost The Natural Habitat
If you weren't aware, bees and butterfly numbers are in danger. Due to the loss of natural habitat, many species are seeing their numbers plummet like never before. Incorporating flowers and ornamental trees and shrubs into your property creates a natural environment for bees and butterflies to thrive! Also, birds will appreciate the new environment for them to roost.
Trust The Design Experts
We can all appreciate the beauty of a painting, but sadly, not all of us are artists. The same goes for custom landscaping and design. Discussing your goals and aspirations with a professional landscaper allows you to realize your dream backyard with someone who has an eye for design. Maybe putting the Japanese maple near the house would look better. Maybe having a little pathway over there will make it easier to get to the garden hose. Maybe river stones would look nicer than wood chips. Little details like these can really make your yard stand out, and having the input of a master landscaper takes the pressure off you.
Treat Yourself to Custom Landscaping – Call Quality Cut Lawn Services
If you seek custom landscaping in Delaware, look no further. Quality Cut Lawn Services offers professionally designed custom landscaping. Plus, our expert technicians will keep it groomed and healthy with our multi-step lawn care program. Call 302-420-7597 or contact us online today to get started! Looking for more inspiration and ideas? Check out our monthly blog!