When fall comes around in Delaware, it might be a good idea for you to think about your lawn again. People tend to move on from the idea of lawn care in November and center their focus elsewhere. This is usually when the holiday haze sets in. Halloween passes and people remember they need to prepare for Thanksgiving, put up the holiday lights, think about Black Friday, and even fit in all their Christmas shopping. But during all the hustle and bustle of the holidays, lawns become extremely neglected. Seasonal build up starts to show it's face and your turf will inevitably begin to suffer.
What are the benefits of ensuring your fall lawn stays clear of any excess rubbish this season?
Leaves falling from the trees might seem harmless and even create some fun surrounded around all the colors. However, it wreaks havoc on your turf. When leaves pile up and mix with the moisture leftover from rainfall, it will block sunlight and prevent the moisture from evaporating. This can cause issues when it comes to the buildup of fungus that can begin to grow. Additionally, with multiple leaves being piled up, it can also block sunlight from getting to your turf.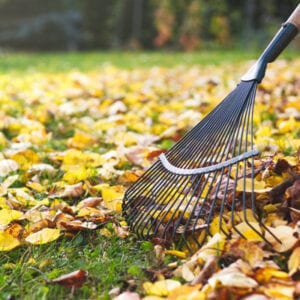 Your lawn isn't meant to die the moment summer ends, having it clean, exposed to sunlight, and allowing it the opportunity to dry after rainfall is the best thing you can do for it. It will create a healthier lawn for a longer period of time, supporting its survival through the winter.
Eliminating Thatch Build-Up
If you aren't familiar with thatch, it is essentially the build-up of dead turf and fallen foliage that sits within the top layer of soil in your turf. It occurs when organic debris falls and sits on your turf for a faster than it can break down. That's right, this is also linked to leaf build-up. While thatch build-up can happen in other seasons as well, it is pretty common during the fall. Allowing your turf to be covered in dirt, leaves, and water build-up will eventually result in thatch, which can lead to insect infestation, fungus, and even lawn disease.
Does Your Turf Need a Good Spruce this Fall? Give Quality Cut Lawn Service a Call Today!
A seasonal clean-up isn't something that is always necessary, but with the leaves falling and the rain gathering, it might be something to look into this season. It would be devastating to risk the beautiful lawn you worked so hard on all summer just because you were a little preoccupied in the fall. With everything in the world going on right now, you will be a lot better off hiring Quality Cut Lawn Service to take on the responsibility for you!
Quality Cut Lawn Service is ready to take on your fall lawn care yard clean-up! We offer everything you could ask for in this service. Give us a call at 302-420-7597 or find our contact form online here. Give us a chance to spruce up your Delaware lawn and you won't be disappointed!